Man Threatened to Shoot Students: Cops
Schools in Bristol Borough were on lockdown while threats were investigated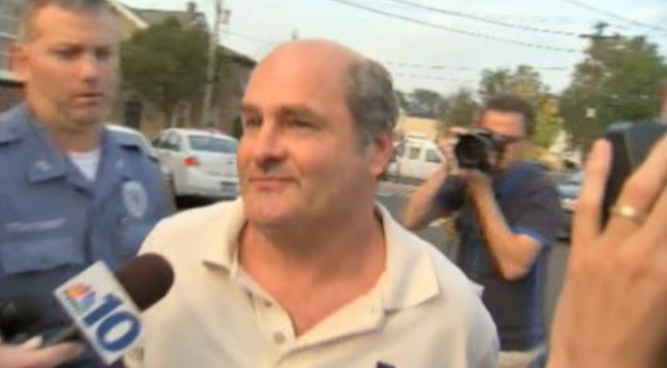 NBCPhiladelphia.com - Rosemary Connors
A Bucks County man was taken to jail Thursday after police say he threatened to shoot students at a Bristol Borough Elementary School. 50-year-old Daniel Gallagher is charged with making terroristic threats, harassment, and other charges. NBC10's Rosemary Connors confronted the suspect after police arrested him, and talked to parents.
A man was arrested in Bristol, PA after he allegedly threatened to shoot school students, police say.
All the schools in the Bristol Borough School District were placed on lockdown Thursday afternoon while the threat was investigated.
Police sources confirm to NBC10 that the suspect, 50-year old Daniel Gallagher, made a call from Bristol to someone in Philadelphia, saying he was going to shoot students in the schools.
Arnold Porter, Bristol Borough Police Chief told NBC10 the suspect "had made a threat of 'blood will flow' at one of the elementary schools, but he did not name the elementary school.
Investigators say the threat came in the form of phone calls to a Philadelphia lawyer who represented Gallagher in an arson case in the 1980s. According to police, Gallagher threatened both the lawyer and the school children, insisting he recently bought an AK47 at a gun show.
Philadelphia police alerted authorities in Bristol Borough. They spotted Gallagher walking down the street and picked him up. Investigators tell NBC10 he was drunk at the time and told them he was sorry.
Gallagher is being charged with making terroristic threats, ethnic intimidation and harassment.
The lockdown was lifted shortly after 4 o'clock and students were dismissed.
No one was hurt.