NJ Gov. Hopeful Wants to "Raise the Wage"
Monday, Aug 26, 2013 | Updated 2:12 PM EDT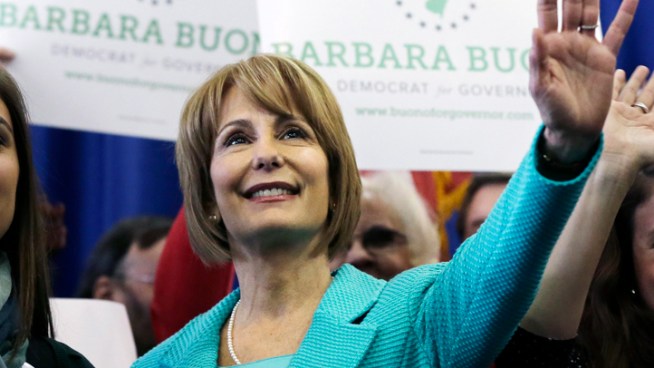 AP
New Jersey state Sen. Barbara Buono waves to a gathering of supporters Saturday, Feb. 2, 2013, after she officially kicked off her campaign for New Jersey governor with a rally in New Brunswick, N.J. New Jersey's largest teachers union endorsed Democrat Barbara Buono's bid to unseat Republican Gov. Chris Christie. The vow of support for Buono, a state senator from Metuchen, was announced Saturday, March 16, 2013. The NJEA's political action committee, representing members in every county, had voted unanimously Friday night to endorse Buono. (AP Photo/Mel Evans,file)
The Democrat seeking to unseat Gov. Chris Christie has joined others in calling for a higher minimum wage in New Jersey.
Barbara Buono and her running mate Milly Silva were among several lawmakers, community activists and workers who spoke Monday at a news conference in Trenton organized by Working Families United for New Jersey's "Raise the Wage" campaign.
New Jersey voters will be asked in November to consider a constitutional amendment that would boost the minimum wage by $1 to $8.25 and link it to automatic annual adjustments to the Consumer Price Index.
Christie vetoed legislation that would have increased the wage by $1.25 and provide automatic yearly increases.
Christie offered to raise the wage by $1 per hour over three years instead.
More News:
Buono to Homeless: 'I Won't Forget You'
NJ Transit Granted $1M for Improvements
Philly Woman Turns Up Alive After Her Own Funeral