Sandy Rainfall Totals & Top Wind Gusts
Sandy drops inches of rains and packs heavy winds throughout the area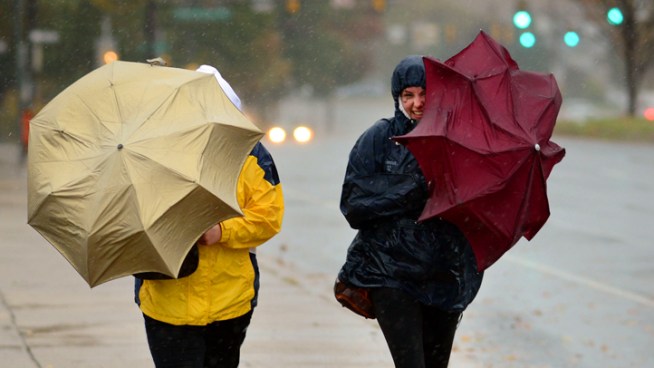 Getty Images
Two women try to hold on to their umbrellas in a wind soaked rainfall as Hurricane Sandy approaches.
These are the latest rainfall totals and wind gust readings caused by Sandy.
Remember that totals can differ depending on when the last reading was taken.
We will continue to update these numbers from the National Weather Service throughout the storm.
New Jersey
| | | |
| --- | --- | --- |
| Area | Rainfall total (Inches) | Wind Gusts |
| Atlantic City | 8.15 | 77 mph |
| Barnegat | 6.14 | 62 mph |
| Brick Township | 3.50 | 78 mph |
| Cape May | 8.10 | 73 mph |
| Cape May Court House | 7.69 | N/A |
| Deerfield | 5.14 | N/A |
| Dennis Township | 7.57 | N/A |
| Estell Manor | 7.06 | N/A |
| Gloucester Township | 2.93 | N/A |
| Hammonton | 5.46 | N/A |
| Lindenwold | 3.94 | N/A |
| McGuire Air Force Base | 2.57 | 66 mph |
| Mount Laurel | 4.00 | N/A |
| North Wildwood | 10.24 | N/A |
| Pitman | 5.31 | N/A |
| near Pittsgrove | 5.56 | N/A |
| Surf City | N/A | 89 mph |
| Toms River | N/A | 68 mph |
| Trenton | 1.75 (airport) | 68 mph |
| Upper Deerfield Township | 6.20 | N/A |
| Washington Township | 4.90 | N/A |
| West Cape May | 9.37 | N/A |
| Wildwood Crest | 11.91 | N/A |
| Woodbine | 7.82 | N/A |
Delaware
| | | |
| --- | --- | --- |
| Area | Rainfall total (Inches) | Wind Gusts |
| Bear | 6.30 | N/A |
| Bethany Beach | 3.28 | N/A |
| Bridgeville | 6.92 | N/A |
| Dover | 7.98 | 54 mph |
| Georgetown | 10.20 | 50 mph |
| Indian River Acres | 9.49 | N/A |
| Lewes | N/A | 52 mph |
| Newark | 5.02 | N/A |
| Rehoboth Beach | 9.37 | N/A |
| near Smyrna | 7.96 | N/A |
| Wilmington | 5.20 | 56 mph |
Pennsylvania
| | | |
| --- | --- | --- |
| Area | Rainfall total (Inches) | Wind Gusts |
| Philadelphia | 3.06 (airport) | 68 mph |
| Allentown | 1.25 (airport) | 70 mph |
| Ambler | 4.00 | N/A |
| Aston | 2.43 | N/A |
| Bensalem | N/A | 76 mph |
| Coatesville | N/A | 45 mph |
| Conshohocken | 2.95 | N/A |
| Doylestown | N/A | 51 mph |
| Mount Pocono | 1.76 (airport) | 66 mph |
| Sellersville | 2.38 | N/A |
| Unionville | 5.12 | N/A |
| West Chester | 5.78 | N/A |
| Wind Gap | N/A | 62 mph |