"Duck Dynasty" Ratings Sag After Flap Over Patriarch's Comments on Gays, Race
Friday, Jan 17, 2014 | Updated 9:02 AM EDT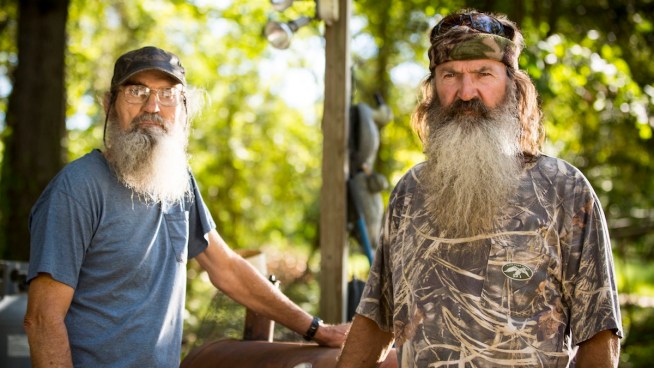 AP
Duck Dynasty's fifth season premiered Wednesday to a significantly smaller audience than its fourth season did. Above, brothers Silas "Uncle Si" Robertson, left, and Phil Robertson, who was briefly suspended by A&E after he made inflammatory comments about gay and black people in a GQ interview.
Nielsen says "Duck Dynasty" drew 8.5 million viewers for its fifth-season premiere.
That audience was slightly higher than for October's fourth-season finale of the A&E reality show. But last summer, 12 million viewers caught the fourth-season premiere.
Set in Louisiana bayou country, "Duck Dynasty" follows a family that manufactures duck calls and loves to go bird hunting.
Wednesday's airing gave viewers their first fresh look at the series since it got caught up in an uproar.
Phil Robertson, the family patriarch, was briefly suspended by A&E after GQ magazine quoted him declaring that gays are sinners and African-Americans were happy under Jim Crow laws. Supporters of Robertson's right to voice his opinions flocked to his defense before the network reinstated him.