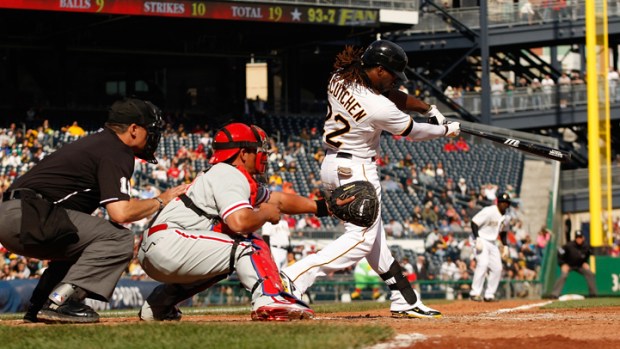 Getty Images
Andrew McCutchen of the Pittsburgh Pirates hits a walk-off RBI single in the 9th inning in front of Brian Schneider of the Philadelphia Phillies during the game on April 8, 2012 at PNC Park in Pittsburgh, Pennsylvania.
Hunter Pence hit his first home run of the season on Sunday and drove in two runs for Philadelphia, but it wasn't enough. The Phils blew a three-run lead, losing 5-4 when Andrew McCutchen singled home pinch-runner Josh Harrison with two outs in the ninth inning.
McCutchen finished with three hits, none bigger than his smash off the center-field wall against reliever David Herndon (0-1), allowing Harrison to waltz home from third.
The Phillies face the Marlins tomorrow at 1:05 p.m. for the Home Opener at CBP.